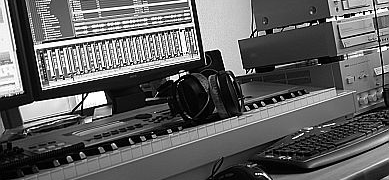 Jederzeit aktuelle DAW Studiosoftware und die neuesten und qualitativ besten Synthesizer- und Effektplugins kommen im Musikstudio zum Einsatz. Die Software ist natürlich für Mac und PC Systeme geeignet und bietet somit viele Möglichkeiten für den Datenaustausch unter anderen Musikstudios. Qualitativ hochwertige Loops und Samples als Inspirationsquelle oder als Basis für ein Songgerüst, sind ebenfalls im Studio integriert.
Wir verwenden ausschliesslich gekaufte und lizenzierte Software! 🙂
Digital Audio Workstation (DAW)
– 32- und 64bit PC's mit 4-und 6- Kern Prozessoren, 16GB RAM, 2TB Harddisc inkl. sep. Backupsystem. Hinzu kommt ein MAC Book Pro, auf dem Logic Pro X installiert ist.
Sequenzer:
– Steinberg Cubase (haupt Composer- / Audiostation)
– Ableton Suite
– Propellerheads Reason
– FL Studio Producer Edition
– Logic Pro X
Software FX/Effect – Plugins:
– Waves Mercury und SSL Collection
– Slate Digital Compressors and FG-X
– Elysia EQ's and Compressors
– Pluginallianze diverse Plugins
– T-RackS comlpete Bundle 2013
– Nomad Studio Bundle V3
– Sonalksis Studio One
– Camel Phat & Camel Space
– und viele mehr… 🙂
Software Instrument and FX Plugins:
Fabfilter: Pro Q, Pro L, Pro C, Pro G, Twin 2, Timeles 2, Volcano 2, Simplon, Micro
Cakewalk: Rapture, Dimension pro, z3ta 2
Rob Papen: Albino 3, RG, Punch, Distort, Predator, Blue
apeq EQ : apeq eq
Tone 2: Elextrax, Firebird, Saurus, Rayblaster, Nemesis
Vengeance: Multiband Compressor, Multiband sidechain, Philta, Phalanx
iZotope: Stutter edit, Ozone 4 & 5
Native Instruments: KORE 2, Komplete 4 – 9
Waves: Mercury and SSL Bundle
Fxpansion: Synth Quad, Geist & Dynamics
AAS: Chromaphone, loungelizard 3 & 4, Analog 2
Synapse Audio: DUNE
Arturia: V-Collection V3
Nomad Factory: Ultimate Studio Bundle V3
Imagaline: FL Studio 10 with all Plugins of Imageline
Korg : legacy collection
Refx: Vanguard, Nexus 2
EWQL: Symphonic chors, Symphonic Orchestra, Gypsy, Ministry of rock 1, RA, Silk, Stormdrum 2, voices of passion
Steinberg: Virtual Guitarist 2 und VST Instrument Collection
Audio Hardware / Instruments / Audioequipment:
– PCIe Audiointerface RME HDSPe
– PCI Audiointerface Sonic Scope DSP System
– Yamaha HS80
– Access Virus TI Snow
– Yamaha EQ-500
– Yamaha AX-700
– Yamaha KX-800
Loops und Samples:
Stattliche 150GB Samples, Loops und Refills. House, Dance, Trance, Moviescore, Chillout und viele mehr, natürlich lizenzfrei für neue Produktionen einsetzbar. Die Libary wächst natürlich ständig und bietet von chilligen Pianoübergängen bis zu dirty Basslines alles, was das Producer- und Remixerherz höher schlagen lässt. Natürlich sind auch etliche tausend Midifiles in der Libary, die frei für neue Instrumente einsetzbar sind.